Blockchain technology has changed the lives of millions of people by enabling them to make secure monetary transactions without having to rely on the services of banks. Online sports betting websites are one of the platforms which greatly benefit from the utilization of blockchain.
As more and more betting websites introduce cryptocurrency support, it's essential to learn how betting with Bitcoin works, and why many people consider it a preferable alternative to more traditional options based on fiat currencies such as dollar or euro. We will give brief information on How to Bet with Bitcoin and keep it secure and anonymous.
An Introduction to Bitcoin
Bitcoin (BTC) is a decentralized network created in 2009 by a person or a group of people using the pseudonym "Satoshi Nakamoto". Thanks to employing a revolutionary concept known as blockchain technology, Bitcoin allowed millions of people to send and receive monetary transactions in a fully peer-to-peer manner, without having to rely on centralized third parties such as banks.
While the process of placing bets on betting sites accepting Bitcoins is exactly the same as on traditional betting websites using fiat currency, the process of depositing crypto might be novel to beginner cryptocurrency users. But don't worry – in this article, you will find a step by step guide on how to start betting with Bitcoin, even if you've never used any form of cryptocurrency before.
What Are the Advantages of Betting with Bitcoin?
First things first – you might be wondering why you should bother with learning how to bet with Bitcoin in the first place. Perhaps you have been using traditional betting websites for years and you are not fully convinced why you should make the switch to Bitcoin betting platforms. What are the main benefits of betting with Bitcoin?
🧛‍♂️ Privacy: The main reason why so many betting fans decide to use Bitcoin-based betting websites is the massively increased level of privacy. While cryptocurrencies like Bitcoin are not fully anonymous, they are private as much as they allow you to make transactions without having to disclose your personal information such as your real name, address or credit card number anywhere and to anyone.
🔓 Security: Many people prefer to use cryptocurrencies online because blockchain-based digital assets are very secure compared to other payment methods. Using credit and debit cards online is notorious for the risk of having your card details stored, which in the worst case scenario can even cause you to lose all the funds from your bank account. Bitcoin is protected by military-grade cryptographic algorithms, which makes it one of the most secure payment methods available.
📱 Accessibility: In order to use traditional sports betting websites, you usually need to own a bank account. To start betting, you need to reveal a massive quantity of sensitive information about yourself, and go through a lengthy and complicated verification process. Bitcoin betting websites are much simpler than that – registration is very easy, and you can start betting right after you deposit some crypto to your account.
Step by Step Guide to Betting with Bitcoin
Betting with Bitcoin is simple, and even people with no previous blockchain experience can start using Bitcoin betting websites easily. You don't even have to be a cryptocurrency owner, since you'll be given an option to conveniently purchase Bitcoin and send it directly to your account on Sportsbet.io, one of the leaders of the Bitcoin betting websites market.
Step 1: Create an Account on Sportsbet.io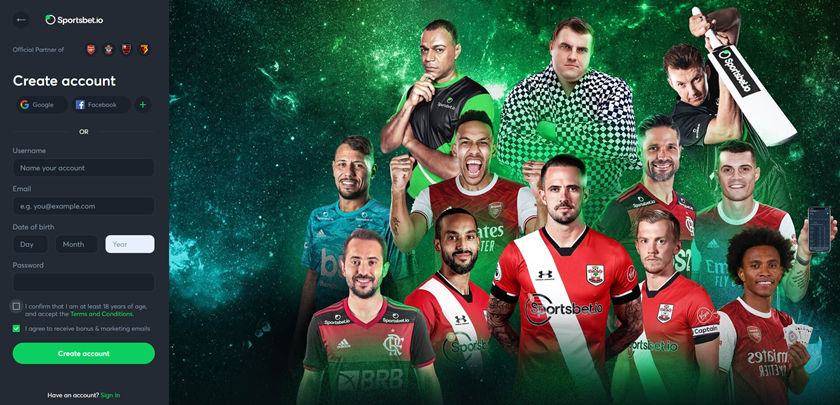 Unlike traditional betting websites, Sportsbet.io doesn't force you to go through an unnecessarily complicated verification process. Registering an account is really simple: go to the Sign Up page, choose a username and password, select your date of birth and agree to the terms of service. After you click the "Register Account" button, a confirmation link will be sent to your email.
👍Click here to visit Sportsbet.io!
Step 2: Log In to Your Account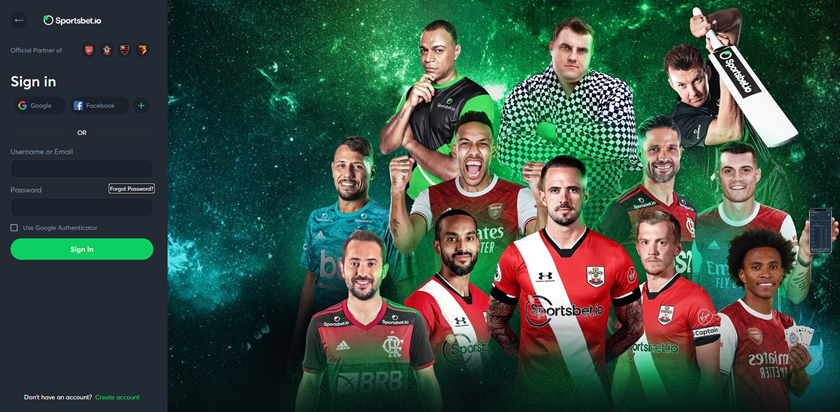 Clicking the confirmation link will automatically log in to your account. You don't have to go through any extra verification – just click the "Deposit" button in the top right corner of the screen and proceed directly to funding your account with cryptocurrency.
👍Click here to visit Sportsbet.io!
Step 3: Deposit Funds to Your Account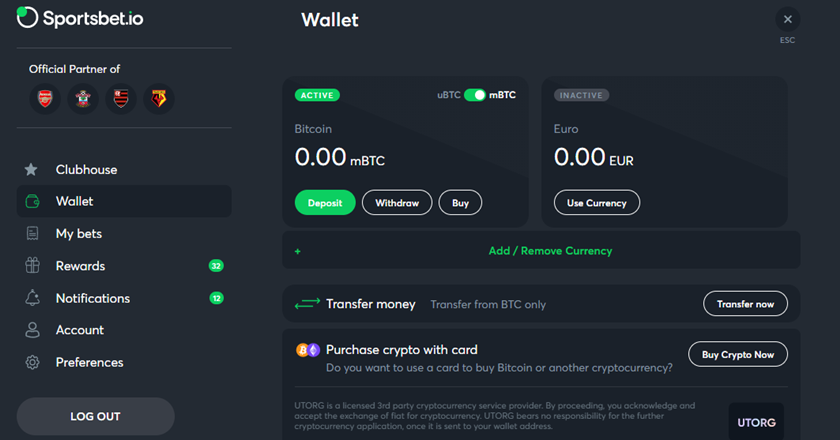 Sportsbet.io supports the following cryptocurrencies: Bitcoin (BTC), Litecoin (LTC), Tron (TRX), Ethereum (ETH), Tether (USDT), Ripple (XRP) and Cardano (ADA). If you are an experienced crypto user who already owns any of these coins, you can simply send cryptocurrency to your Sportsbet.io wallet address designed for the respective crypto.
However, if you're reading this guide chances are that you've probably never used crypto before, and you might own neither Bitcoin nor any other supported cryptocurrency. But don't worry – you don't have to go through the lengthy process of purchasing BTC on a crypto exchange such as Binance or Coinbase. Sportsbet.io allows you to conveniently buy bitcoins through the MoonPay payment processor.
To buy BTC with MoonPay, click "Buy bitcoins" in the Deposit menu on your account. You will be asked to select the desired amount of Bitcoin to purchase. After verifying your identity, you will be able to finalize the transaction by paying with a debit or credit card. If you need a more detailed description of the process of buying bitcoins with MoonPay, you can check the official guide on the Sportsbet.io website.
👍Click here to visit Sportsbet.io!
Step 4: Wait for Your Deposit to Complete and Start Betting!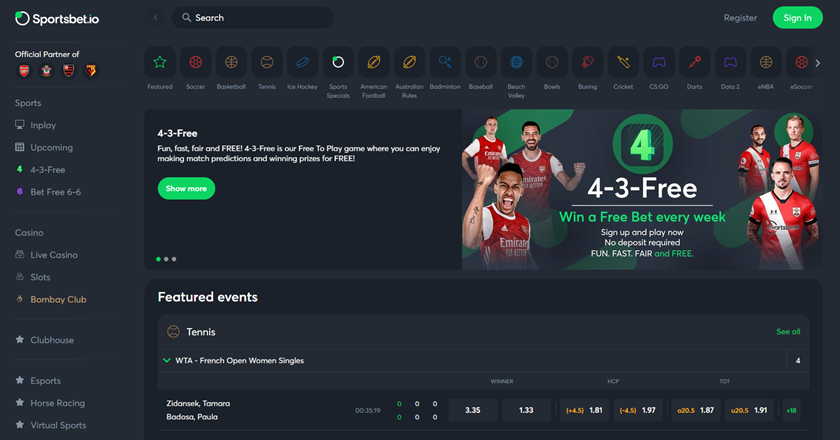 Take note of the fact that cryptocurrency transactions are not processed immediately, and it may take a moment for your bitcoins to arrive on your Sportsbet.io account. Depending on the network traffic at the time, it may take from a couple minutes up to even half an hour for the deposit to complete.
After the funds have been successfully deposited to your account, you can finally start betting! When it comes to the actual betting process Bitcoin betting websites are not different from more traditional betting platforms, and the easy-to-use, familiar design of Sportsbet.io will make betting with Bitcoin familiar and easy to all fans of online betting.
👍Click here to visit Sportsbet.io!
Trusted Bitcoin Betting Sites
If you are looking an alternative Bitcoin Betting site to Sportsbet.io, you can check our top choices at the bottom table. All of the listed Bitcoin Betting sites are licensed in Curacao and offers a secure and anonymous betting platform to crypto bettors.