Provably fair games are just one of the ways in which blockchain technology has revolutionized our lives. Previously, fans of online casinos had no way of verifying whether the online casino they play at is trustworthy or not. Thanks to blockchain, players at online Bitcoin casinos can enjoy playing classic casino games such as dice or keno in a provably fair way. Let's dig into the question of What is Provably Fair in the crypto gambling world?
The concept of Provably Fair gaming – What is Provably Fair?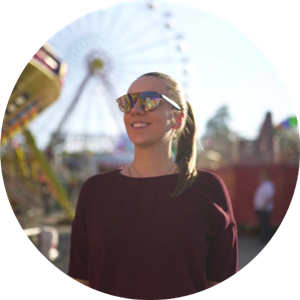 Provably fair bitcoin casinos use blockchain technology to provide an easily verifiable and fully transparent gaming experience. Unlike traditional online casinos which only accept cryptocurrencies such as Bitcoin or Ethereum as a payment method, provably fair games actually use advanced blockchain algorithms to grant the users many benefits not available on outdated gambling websites.
Before the advent of blockchain technology, online casinos used simple random number generators. The main problem of this solution was the fact that the users had no way of verifying if the games they are playing were really fair or not.
In other words, playing a traditional game such as dice on an outdated gambling website means that you have absolutely no way of telling if you are being treated fair. The random number generator used by the casino might not be 100% random and all the results can be slightly twisted to favour the casino – there's no way for you to check it.
Provably fair Bitcoin casinos are different, because they are fully transparent. The games are built with open source algorithms, and every single roll of dice can be independently verified with very little effort.
When you play a provably fair game, the Bitcoin casino sends you an encrypted hash of the seed used by the server to generate random numbers. This hash is delivered to you in advance before you start the game, and the server cannot change it after you begin playing.
After the game has been played, you can use a third party website to verify the hash. In other words, provably fair Bitcoin casinos provide you with a method which can give you 100% certainty that every single game you play is fully fair, and has not been tampered with in any way.
What are the advantages of Provably Fair casino games?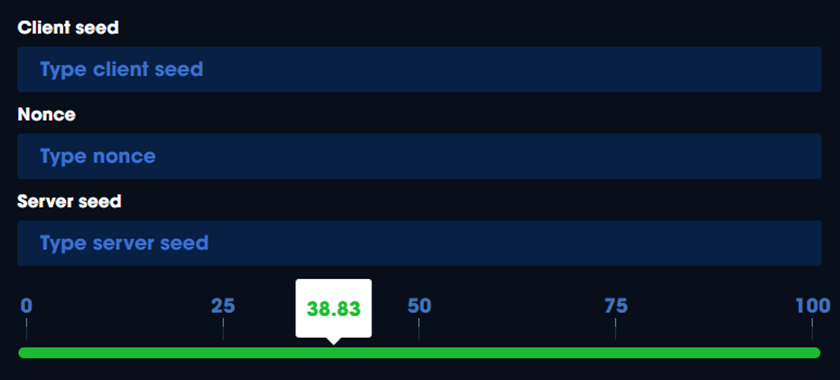 Bitcoin casinos which utilize provably fair algorithms provide many advantages over traditional gambling websites. Of course, full transparency is the main benefit of crypto-based casinos, but it's just one of many features which greatly enhance the player's experience.
Full Transparency: Before the invention of provably fair algorithms, there was no way for the user to distinguish legitimate online casinos from scams. Playing casino games should be enjoyable, and the players shouldn't have to worry whether the game is fair or not. With provably fair games, you can simply enjoy the game with complete certainty that the website you use is trustworthy.
Improved Privacy: Online casinos which utilize provably fair algorithms also allow you to make deposits and withdrawals with cryptocurrencies such as Bitcoin or Ethereum. Because of that, you don't have to reveal sensitive data such as your identity or credit card number. It's not only much more convenient, but also much more secure, as there is no risk of your private information being leaked.
Lower Fees: Blockchain-based online casinos are not only more fair, but also more efficient. Compared to websites which don't utilize cryptographic algorithms, Bitcoin casinos don't burden the players with unnecessarily high fees. All deposits and withdrawals can usually be done either with minimum fees, or even no fees at all.
How can you verify a Provably Fair casino game?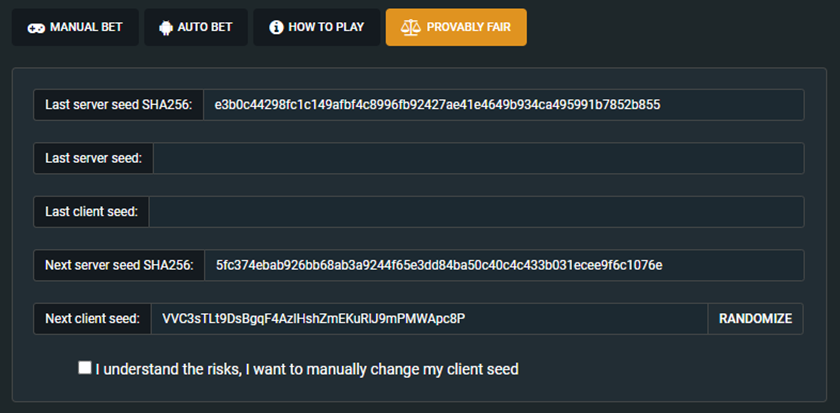 The best thing about provably fair Bitcoin casinos is that you don't have to trust them – you can verify everything by yourself. Every single roll of dice you make can be independently verified with a third party service, so that you can be 100% sure the odds are never manipulated in favour of the casino.
Verifying provably fair algorithms can sound complicated at first, but it's really not that hard. Using an independent verifier will only take a couple minutes for an inexperienced user, but it will give you total confidence that the Bitcoin casino you're using is trustworthy.
Verifying the fairness of the casino you are using simply means using a third party service to check if the cryptographic hashes used by the casino have not been tampered with in any way. In order to do that, you need to simply paste three values provided by the casino to an independent verifier: server seed, client seed and nonce.
Server seed: The server seed is provided by the casino and provided to the player in an encrypted (hashed) form. Because of that, it can't be used to cheat and try to determine the result of future games. But after the game is concluded, the server needed can be verified by third party software to prove that the game you've played was not manipulated.
Client seed: Client seed is a word, a phrase, or a random set of characters that you personally set up. It is used to customize the process of generating random numbers. In other words, the result of a game you play is partially determined by something that the casino doesn't have any influence on, which guarantees fairness.
Nonce: Nonce is a number which increases either with every game you play, or with every couple games. Thanks to the nonce, the same combination of server seed and client seed can be used indefinitely, without ever producing the same results.
Checking if the Bitcoin casino you're using is really provably fair is very simple and doesn't require you to personally do any complicated calculations. Just paste the three factors listed above into one of many independent verifiers – they will run the numbers for you, and tell you whether the casino you're using is not trying to cheat you.
Provably Fair Casino Games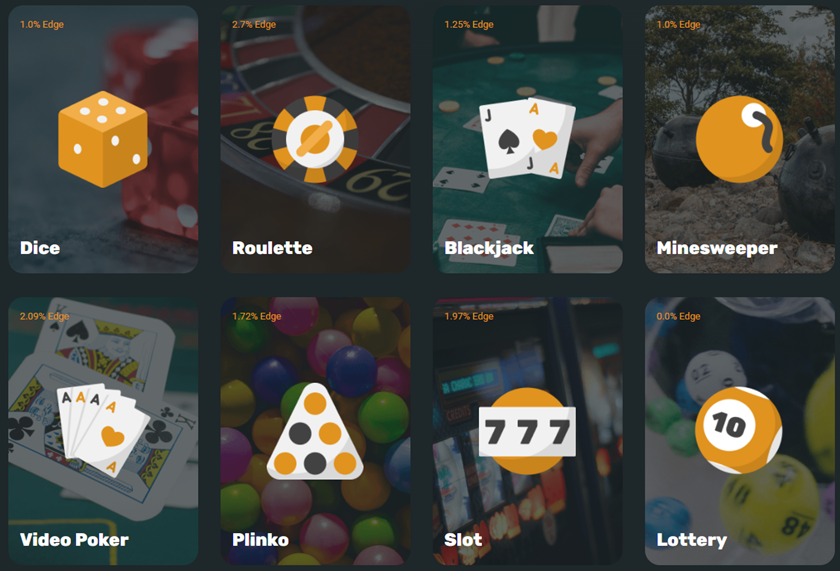 Provably fair algorithms are not limited to one type of game. They can be utilized in a large number of games, which include both well-known classics as well as new and innovative games.
Some of the most popular provably fair casino games include:
Bitcoin Dice: Dice is one of the oldest games known to mankind. It has been around for thousands of years, and it's still as popular as ever. Provably fair dice games are very simple and immediately easy to understand, but they are also very fun.
Bitcoin Crash: Bitcoin Crash is a popular provably fair Bitcoin casino game that can be played in single or multiplayer modes. The rules are very simple: you play by betting on a certain bet until you win. The higher your potential win is, the longer it may take to win.
Bitcoin Hilo: Hilo is a provably fair bitcoin casino game where your goal is guessing the value of a card depending on an open card near it. It's one of the easiest provably fair games because all you have to do is bet whether the hidden card is lower or higher than the open one.
Bitcoin Plinko: Plinko is an easy and very entertaining game, which also includes some strategy. You place the bets as you want, which can change the riskiness and profitability of your win. The exact amount you win is determined by a multiplier chosen at random.
Bitcoin Keno: Keno, along with Bitcoin dice, is one of the most traditional games available at provably fair casino websites. The rules are very simple and resemble a classical lottery: just pick 10 numbers, and hope that the numbers selected by a provably fair algorithm will be the same as yours!
Bitcoin Wheel: Wheel of Fortune is one of the most renowned and beloved games of chance ever intended. It's simple, very fun, and thanks to the blockchain technology it's also provably fair. Unlike the version you may know from television, the online adaptation doesn't include a cute girl spinning the wheel, but it can still be very profitable!
Bitcoin Mines: Bitcoin Mines is a provably fair game that will be immediately familiar to anyone who ever played the most popular game that comes pre-installed with every Windows system: Minesweeper. Bitcoin Mines is exactly that, with the only difference being the fact that you can actually win money playing it.
Bitcoin Video Poker: Poker is the king of all casino games. It's definitely one of the most entertaining games around, and Bitcoin casinos allow you to play this classic game of strategy and luck in a provably fair way.
Provably Fair Casino Sites
You can find the Provably Fair Casino Sites offering Provably Fair Bitcoin Casino Games at the below table. Feel free to go though Bitpunter's detail casino reviews and choose the best casino which fits your online gambling needs.
Conclusion
Playing classic games on online Bitcoin casinos can be very fun, but there's no point in playing if the website you're using is preventing you from winning. Provably fair algorithms enable you to just sit back and enjoy the game, without ever having to worry if the casino you're using is fair or not.