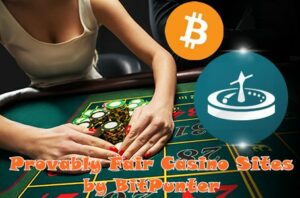 Gambling with Bitcoin was initially designed to be Provably Fair and many Provably Fair Casino Sites has been founded ever since. The Provably Fair casino site means that the outcomes of the casino games can be checked using a Provably Fair algorithm. Every player can use the Server Seed, Client Seed and Hash generated by every casino play in order to check the randomness and fairness of the casino sites. Provably Fair Casino Sites may not always offer the best casino design and game variety but they sure offer fair casino games.
All the listed Provably Fair Casino Sites allow you to select BTC as your account currency. Using BTC as account currency will enable you to deposit, play casino games and withdraw all in BTC without the need of converting into fiat currency and losing any commissions. All the Provably Fair Casino Sites except BC.Game is licensed in Curacao.
Best Provably Fair Casino Sites
🦊 Betfury: The guys behind Betfury Casino is dedicated to offer Provably Fair casino games to Bitcoin bettors. They have 10 Provably Fair casino games and they come up with a new one every month or so. The best thing about their casino games is they are the only ones to offer it with a Jackpot prize. The Jackpot prizes can be as much as 5 BTC in total and they will wait for the next lucky gambler.
👍 Stake.com: Stake.com is another Bitcoin Casino and Sportsbook operator which is dedicated to develop in-house Provably Fair casino games. They have as many as 16 Provably Fair casino games and they are developing more games in house. When you get a Stake.com you will enjoy a great Sportsbook, Live Casino and Provably Fair Casino games all in a single platform. They have fantastic daily bonuses too.
👌 Bitsler: Bitsler is one of the leading Provably Fair Casino Sites. They both offer Bitcoin Sportsbook and Casino just like Stake.com. Their main difference is they do not offer any Live Casino games and only stick to in-house built Provably fair games. Bitsler has more than 10 Provably Fair casino games including many in-house built fun slot machines to try. They also have Dice, Keno, Limbo and Plinko.
🐺 Wolf.bet: Wolf.bet only offers 3 Provably Fair casino games but they do it well. They only have Bitcoin Dice, Limbo and Hilo at their game offering but they do have many daily promotions to choose from. Just by logging into your account everyday and completing simple tasks, you can get Free Plays. They also have a free crypto money give away every 20 minutes which encourages you to stay logged in at Wolf.bet.
🎲 Crypto.Games: Crypto.Games might be one of the oldest crypto gambling sites with Provably Fair games. They have started their life as a Dogecoin-only gambling site and turned into one of the most well known Provably Fair Casino Sites. They only offer 8 in-house built casino games and all of the games are Provably Fair. The games usually has 1-2% House Edge and offered with daily bonuses.
5 Advantages of Provably Fair Casino Sites
🎰 Fair Games: It all started with the Bitcoin Dice sites where you could gamble on the outcome of dice rolls. The Bitcoin community adopted the concept of Provably Fair gaming to all their casino sites and games. Thanks to this we can now enjoy many casino games with in-house built Provably Fair games where we are able to check the fairness of every single game whether it is a dice roll or a card flip.
🧛‍♀️ Anonymity: Bitcoin community is very conscious about the value of their privacy and this has extended to the Provably Fair Casino Sites as well. Almost at every Provably Fair Casino Site, you will be fine just by entering your email address and choosing a password. You do not need to give away your personal information like name, surname, address and phone number like you have to in traditional online casinos.
🗽 Freedom: By using Bitcoin and crypto money at Provably Fair Casino Sites, you will find yourself outside the centralized financial world. The name crypto means privacy and you will have the freedom to do what you want with your crypto portfolio. If that is having fun at Provably Fair Casino Sites than you do not have to worry about any local legislation as they are only designed for fiat money players.
📱 Mobile Friendly: As most of our online activity switched to mobile phones, the Provably Fair Casino Sites have adjusted their design to mobile-first. With the development of many new Provably Fair Casino Sites like Betfury, Stake.com, Bitsler and Wolf.bet, you can enjoy all the casino plays with your mobile. Some of the old sites like Crypto.Games might struggle with mobile views so we would advise you to stick to the new casinos.
💰 No Commissions: One of the biggest advantages of using crypto as your medium is to have fast and easy payments without high banking fees.  This also applies to Provably Fair Casino Sites where you will not be charged anything for your deposit and withdrawal amounts. If you send 0.1 BTC you will have exactly 0.1 BTC credited to your casino account (plus the deposit bonuses you can claim). If you withdraw 0.1 BTC, you will get exactly 0.1 BTC to your Bitcoin wallet.
Provably Fair Casino Sites FAQ