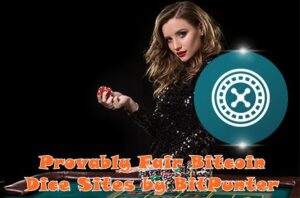 Provably Fair games started with the famous Bitcoin Dice game. Even tough the game features and graphics did not improve much ever since, it is arguably the biggest online crypto game. The Provably Fair Dice site means that the outcomes of the casino games can be checked using a Provably Fair algorithm. Every player can use the Server Seed, Client Seed and Hash generated by every Dice play in order to check the randomness and fairness of the casino sites. Provably Fair Dice Sites may look and feel similar but we did our best to gather the best ones out there.
All the listed Provably Fair Dice Sites are crypto-first casino sites and will use Bitcoin as their default currency. Some of them like Luckydice and Simpledice allow Bitcoin Lightning payments as well. Using BTC as account currency will enable you to deposit, play dice games and withdraw all in BTC without the need of converting into fiat currency and losing any commissions. Most of the Bitcoin Dice sites are also certified by third party quality testing authorities like iTech Labs and Crypto Gambling Foundation. Some of them are licensed in Curacao like Primedice and Duckdice.
Best Provably Fair Dice Sites
🦆 Duckdice: Duckdice is our favorite Bitcoin Dice site. They have this creative approach to the good old dice game which gave enough twist to enjoy. Since its doundation in 2016, Duckdice has become one of the most popular choice among bitcoin gamblers. They call their clients 'ducklings' and you can enjoy many perks like Free Faucet and Daily Torunmanets if you become one. They are also licensed in Curacao.
🎲 Simpledice: Simpledice is claiming to set the new standard in the Bitcoin Dice game. We can agree that they have a very slick design and easy to use site which are the most important aspects of the game. They also allow Bitcoin Lightning payments which are faster and cheaper than classic Bitcoin payments. Simpledice is also a member of the Crypto Gambling Foundatiın which means that their game fairness is tested and approved.
👌 Bitvest.io: Bitvest.io is one of the industry classics when it comes to Bitcoin Dice and Casino games. They have 6 Provably Fair games and Plinko is their favorite. Their Dice game is also popular with Free Faucet and Daily Quests. You can find 100s of fellow gamblers at their community chat all the time. Their design is very old school but if you are a fan of retro things you can give Bitvest.io a try.
⚜ Primedice: Primedice is one of the most popular Bitcoin Dice sites out there. They are licensed in Curacao and their game fairness is approved by the Crypto Gambling Foundation. So you have every reason to trust the site and you will get paid. They do have a Live Support that works so you don't have to ask fellow gamblers everything at the community chat and communicate directly with the Dice site.
🛸 Cyberdice: Cyberdice.net is another trusted Bitcoin Dice site which is verified by the Crypto Gambling Foundation. They are powered by OneHash which is respected as one of the biggest Bitcoin Casino sites out there. They have this high tech and space era type of design so if that is your thing you can give Cyberdice a try. They also offer Free Faucet and Daily Tournaments.
Top 12 Provably Fair Dice Sites
5 Advantages of Provably Fair Dice Sites
🎰 Fair Games: It all started with the Bitcoin Dice sites where you had the chance to prove that the game is fair. This is where the concept of Provably Fair born and you can prove the fairness of every dice roll at the listed site.
🧛‍♀️ Anonymity: Bitcoin community is very conscious about the value of their privacy and you will get exactly that at the Bitcoin Dice sites. They will not require any personal information from your and just want you to confirm that you are over 18.
🗽 Freedom: By using Bitcoin and crypto money at Provably Fair Dice sites you will stay out of the regulatory system. No matter how the local gambling legislations are, Bitcoin Dice site will give you the freedom to gamble with your cryptos.
📱 Mobile Friendly: As most of our online activity switched to mobile phones, Provably Fair Bitcoin Dice sites also adopted themselves to the new technology. You can play from your mobile from anywhere and anytime.
💰 No Commissions: Bitcoin is all about cutting the middlemen off and this also applies to the Bitcoin Dice sites. They will not charge commissions on your deposits and withdrawals and you will receive the exact amount at your withdrawals.
Provably Fair Dice Sites FAQ
What is Provably Fair in a nutshell?
Provably Fair is a technology which allows the gambler to verify the fairness of every play. In a Provably Fair gambling system the player has the chance to check every play using Server Seed, Client Seed and Hash. You can enter these details to the Provably Fair tool of the Bitcoin Casino site and verify the randomness thus fairness of the payout outcome you got. In a simplified way, players can always check that the outcome of every game round is fair and wasn't tampered with. As such, cheating is arguably impossible.
How can I play Provably Fair Dice games?
Bitpunter.io is listing all the reliable Provably Fair Dice sites. You can find 2 lists at this page one with Dice first or Dice only sites and the other with more Provably Fair casino games but also offer a Dice game. All you have to do is to browse through our tables and reviews and choose the Provably Fair casino site you want to use. Than you can enjoy the one click registration and easy deposits and withdrawals.
Are the Provably Fair Dice sites certified?
There are 2 independent authorities certifying the Provably Fair dice sites. Those are the Crypto Gambling Foundation and iTech Labs. The Crypto Gambling Foundation is testing the casino sites and verifying that the games are Provably Fair. Than they list them on their website cryptogambling.org and allow the casino site to use their badge. iTech Labs also work with a similar manner and provides pdf certificates to dice sites.
How can I verify a Provably Fair dice roll?
You have to use a Provably Fair verifier tool in order to verify a Provably Fair dice roll. You have to use the Server Seed, Client Seed and Hash generated by every dice roll in order to check the randomness and fairness of the dice sites. Those information is visible on a separate tab on every casino play on the Provably Fair dice site. You can also use third party Provably Fair verification tools.