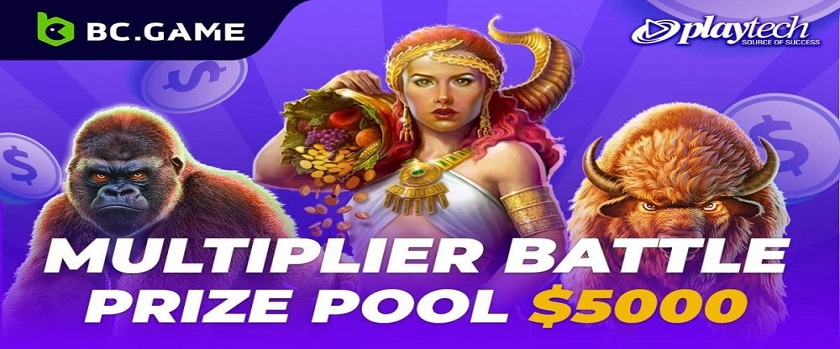 Bc.Game has created a special promotion for VIPs and sets a prize pool of up to $5,000 with Playtech slot event. Those who hit the highest possible multiplier in 5 different slots chosen by Playtech will be rewarded. The highest multiplier that users get in each game will be collected. While 90% of the prize pool is the main prize, participants who complete the side prize from 10% of the pool will receive a share. 🦧
You must have a minimum membership of VIP08 or higher to attend the event, which will take place between December 27 at 18:00 GMT and January 3 at 18:00 GMT. Playtech's selected slots have a minimum bet of $0.20 on Epic Ape 2, $0.10 on Buffalo Blitz Megaways, $0.10 on AOG Wheels of Olympus, $0.15 on The Queens Curse Empire Treasures, and $0.15 on Thunderbirds. At the same time, all players who exceed the 200x multiplier in one of these five slots will receive an equal share of 10% of the prize pool. 🐃
Bc.Game Top Tier Playtech Multiplier Battle Prize Pool
| | | | | | | | | |
| --- | --- | --- | --- | --- | --- | --- | --- | --- |
| Participants | Prize Pool | 1st place | 2nd place | 3rd place | 4rd place | 5th – 10th | 11th – 100th | Bounty Prize |
| 1 – 100 | $2,000 | $500 | $250 | $150 | $100 | $50 | $5.50 | $200 |
| 101 – 150 | $3,000 | $750 | $375 | $225 | $150 | $75 | $8.30 | $300 |
| 151 – 200 | $4,000 | $1,000 | $500 | $300 | $200 | $100 | $11.00 | $400 |
| 201+ | $5,000 | $1,250 | $625 | $375 | $250 | $125 | $13.80 | $500 |
Bc.Game Top Tier Playtech Multiplier Battle Rules
To be included in the promotion, you must follow the Official Promos & Events, VIP Challenges categories in the forum, and upload the screenshot of your bets on the relevant topic.

Rewards will be credited to accounts within 3 business days after the promotion ends.

Other terms and conditions of Bc.Game also applies.