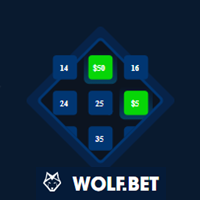 Wolf.bet runs an exclusive contest Lucky Number for Bitcointalk members. Bitcointalk is the oldest and most well known Bitcoin forum and Wolf.bet has decided to give away special prizes to them.
All you have to do is to pick your favorite number from 1 to 100 before someone else does, and get a 19.19% chance of winning a prize. A total of $100 will be paid in Bitcoin through Wolf.bet Bitcointalk contest so make sure you add your username after your entry.
Please remember that only one entry is allowed and a minimum of 125 posts is required to participate. The contest ends at the May 1st 2021.
👍Click here to visit Wolf.bet!
Wolf.bet Promotions and Bonuses List
VIP Rakeback Program
VIP Wheel
Wolf Race
Telegram Contest
Bitcointalk Lucky Number
Chat Games
Rain Every 20 Minutes
7-Day Streak Rewards