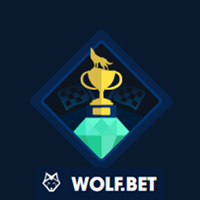 Wolf.bet's daily wagering contest gives you the chance to become the Wolf Hero. This wagering contest will allow you to get higher bonuses with a higher ranking.
The higher your position in the ranking when the Wolf howls the end, the bigger your prize will be. You will be automatically joined to everyday's Daily Contest.
All you have to do it playing any of the games at Wolf.bet. Join the Wolf Pack and start playing!..
👍Click here to visit Wolf.bet!
Wolf.bet Promotions and Bonuses List
VIP Rakeback Program
VIP Wheel
Wolf Race
Telegram Contest
Bitcointalk Lucky Number
Chat Games
Rain Every 20 Minutes
7-Day Streak Rewards