Pros
Free Faucet
Daily Tournaments
Provably Fair Dice
Operational Since 2017
👌 Sicodice is one of the well known Bitcoin Dice sites operating since 2017. You can use Bitcoin, Dash, Dogecoin, Ethereum and Litecoin to play Dice game on this dice site. Here is Bitpunter's take on Sicodice Review.
Is Sicodice a Reliable Bitcoin Dice Site?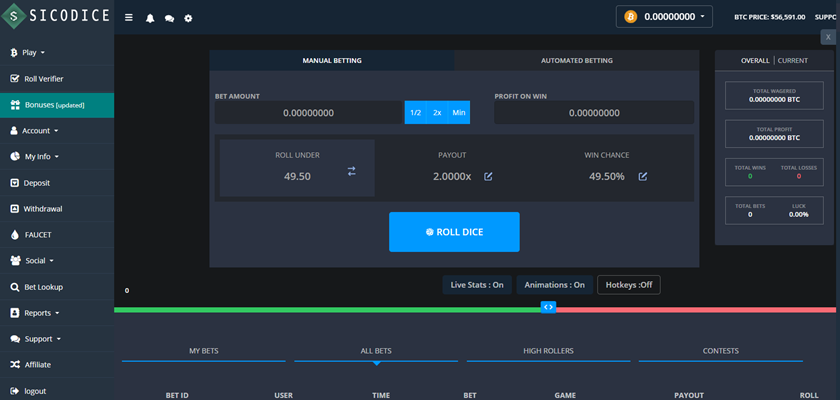 🎲 Sicodice is operational since 2017 and become one of the trusted Bitcoin Dice sites in the meanwhile. They do not have any license or does not have any third party verification badge from providers like iTech Labs or Crypto Gambling Foundation. That leaves them a bit in the grey area of trust but they still transparently provide every verification tool for their Provably Fair dice game for the seasoned crypto gambler.
Sicodice uses a verification system that allows players to check the integrity of every bets and confirm they have not been manipulated. Random numbers are generated by the use of two seeds, a server seed, client seed, and nonce. The server seed is hashed and shown before the game begins. This ensures that the ticket cannot be modified during the game. The have this Roll Verifier page where you can easily submit the information and verify your dice games.
👍Click here to open your account!
Is Sicodice Licensed?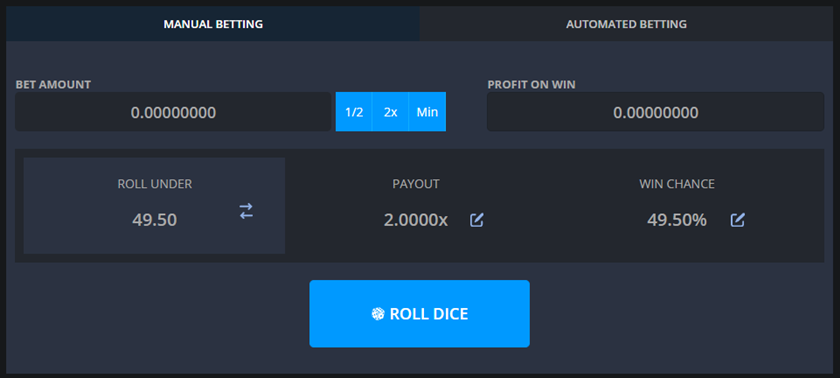 ✖ No, they are not licensed. As their dice game is built in-house, all the payments are in cryptos and all the fairness of the games are proved to be fair, they did not bother to get a license. Any dice site would need a license for 3 reasons: make deals with game providers, make deals with fiat payment providers and convince the potential users that you are safe to enjoy. They did none of that and built their own games, process all payments in crypto and convince the players by providing only Provably Fair dice game. That's pretty much why they do not hold a gaming license.
Sicodice Free Faucet and Bonus Offers

💖 Sicodice offers Free Faucet to all new clients. All you have to do is to claim it from the right menu and choose your currency (BTC by default). You will instantly see a message saying: 'Your account credited 0.00000030 BTC. Good luck'. This dice site also holds daily tournaments. The contests take place for 24 Hours and gives away the Prize of 0.5% of the Qualified Wager amount.
Free Faucet
Daily Tournaments
👍Click here to open your account!
Can I register anonymously to Sicodice?
🧛‍♀️ Yes you can register anonymously. In order to register you have to choose a username and password. That's pretty much it. After that Sicodice gives you the chance to secure your account by verifying your email address and activating 2 Factor Authentication. You can also upload an avatar image of your choice. You do not need to give away any personal information and in fact you do not have any chance to give your personal details to the dice site. They simply are not interested. They have this social aspect of the platform where you can add friends and transfer money to/from them. You might consider that while choosing your username.
One of the best things about crypto gambling is to be able to stay anonymous and this dice site gives you the same opportunity. This way, you do not have to worry about any local registrations or a central banking instution to intervene with what you are doing with your own crypto money. Your crypto transfer can not be tracked into any gambling site and you will have the anonimity in your gambling transactions in your Bitcoin wallet.
Sicodice Deposit and Withdrawal Options

💰 Sicodice is a Bitcoin first Dice site with Bitcoin and some of the major altcoins. When you deposit, they give you an address to send the crypto to and after you send it you have the button shown above and confirm that the job is done.
Bitcoin
Dash
Dogecoin
Ethereum
Litecoin