Pros
Completely Anonymous
Be the Bookmaker
Uses Blockchain Technology
High Sports Betting Odds
Cons
Only in English
Only has WGR Currency
Complicated System for Beginners
👌 Wagerr is a brand new Blockchain Betting Site using the blockchain technology. This is a blockchain-based sportsbook secured by a global decentralized network. Here is Bitpunter's take on Wagerr Review.
Is Wagerr a Reliable Crypto Sportsbook?

🏅 Wagerr is a crypto sportsbook site using the blockchain technology. All the betting activity is secured by a global decentralized network. They have the Oracles system where an oracle acts like a miner. Oracles retrieve real world sporting event data and post event outcomes to the blockchain. This network uses this data to trigger payouts for winning bet contracts. This way miners help the blockchain technology using this sportsbook. You can earn Rewards with Oracles as well. They claim to be solving 4 main issues with online sports betting.
Transparency with Security: Blockchain technology keeps them secure and transparent. Each bet is verified with cryptographic security and each transaction is recorded on the public ledger.
Winners Win More: The lowest juice in the industry. When you win on here, you win more.
Unlimited Liquidity & Payout Guarantee: They will never revoke your bet or limit your bet size. Every payout is guaranteed. Just try finding a commercial sportsbook that can deliver this degree of certainty. Bet on the blockchain for absolute peace of mind.
User Controlled Privacy: They offer a platform for everyone. Start betting instantly at wagerr.com, the online sportsbook. Bet anywhere with their mobile apps. For more privacy and total control of your coins, download their blockchain betting app.
⚽ Wagerr also has its own coins called
WGR
. All this brand new technology integrated into traditional sports betting makes this site like a promising project. Not all good ideas can turn into good startups but we can say thet they have the potential.
👍Click here to open your account!
Is Wagerr Licensed?
✔ No, they are not licensed. They do not hold a sports betting license like the traditional sports betting companies like bet365 and bwin. They claim to be Free from all regulatory bodies and that is impossible to do that if you get a license from a country and submit to their regulations. They have a betting exchange like strategy on a blockchain network. They get 2% fee when 2 users has a Head to Head bet.
They charge 4% if multiple users are matched against a single high roller bettor. And finally they take 6% if One User bets directly on the blockchain without a match. This is how they make money and they did not need to get this licensed to a iGaming authority as it doesn't look like that is the right place to go anyway.
Provably Fair Sports Betting at Wagerr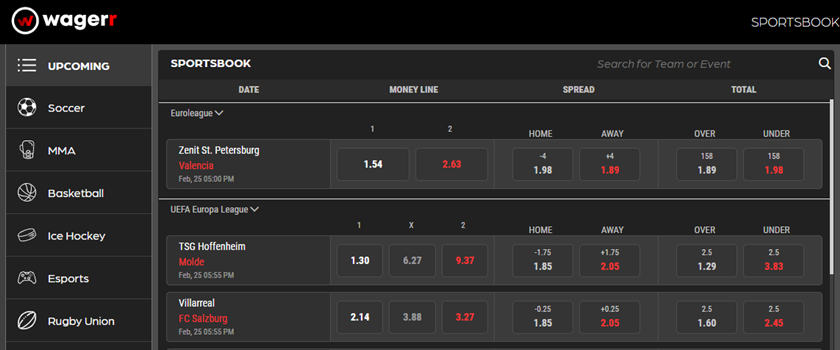 👨‍⚖️ Wagerr is a blockchain based sportsbook and users match their bets against each other. Their network reduces the risk to value and protects holders of WGR tokens by linking betting volume to coin supply. This Value Coupling between usage and supply is a built-in deflationary mechanism that destroys 48% of the fee from every bet. With fees of 2%-6%, the net result is nearly 1-3% of every bet permanently removed from the network.
👍Click here to open your account!
Wagerr Oracle Reward System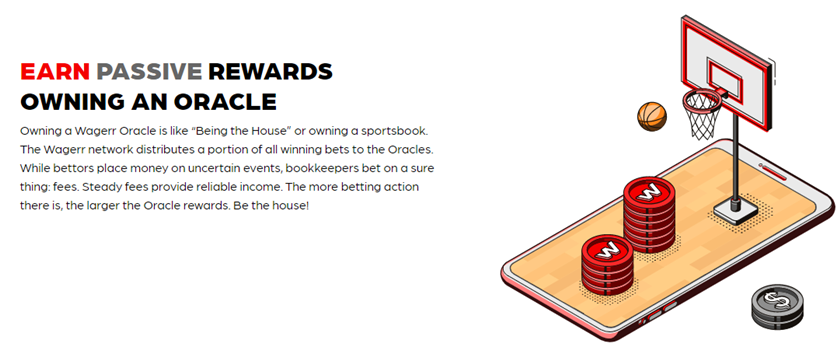 💖 Wagerr does not have any traditional sports betting bonuses but they offer Rewards through their Oracles system. For large scale investors, their Oracle Masternodes offer an exciting source of ongoing income. Like Dash Masternodes, Oracles win a portion of the block rewards. 50% of all betting fees are paid to the processing Oracle, making them increasingly valuable as betting activity grows. Oracles earn these fees for the intensive work of gathering and validating real world event data and forging contracts. So you have the chance to become the house at this site.
👍Click here to open your account!
Can I register anonymously to Wagerr?
🧛‍♀️ Yes, all the accounts at this site are completely anonymous. In order to sign up, all you have to do is click on Create Account and your account will be created and you will be given a 12 word seed in order to be able to login back to your account or use it from other devices or apps. You can also login by a QR code. There are no usernames, no passwords, no email addresses and absolutely no personal information involved. If Ledger is storing your own Bitcoins without a waller, this is owning your sports bets without a bookie.
Wagerr Deposit and Withdrawal Options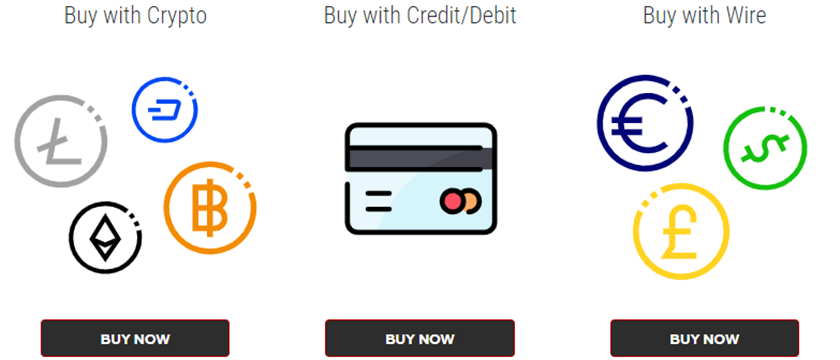 💰 Wagerr user accounts use WGR coin for their sports betting activity. If you do not have WGR coins the easiest way is buying them uswing their swap tool with Ethereum. Wrapped Wagerr (WWGR) is an ERC20 token backed 1:1 with Wagerr (WGR). All the swap transactions are completely transparent and 100% verifiable.Alternatively you can buy WGR coins using credit card, bank transfer or using the exchanges. They also accept all the major crypto currencies through Instaswap. Their most popular crypto currencies are:
Bitcoin
Ethereum
Litecoin
Dogecoin
Tether