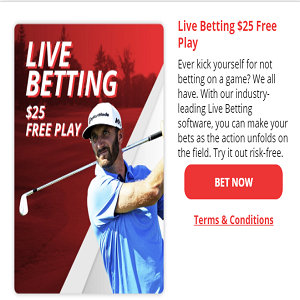 Sometimes we get angry at ourselves for missed opportunities in live sports betting. Our fear of losing money becomes overwhelming and we stop placing a bet. BetOnline's new Live Betting software has been created for you to avoid this fear. Moreover, even if you lose on your first bet with this software, you can get $25 cashback. Remember, it applies to your first bet, not your first loss.
If your bet using the software loses, you must send an e-mail to BetOnline within 24 hours after the bet is completed. You should write "$25 Live free bet" in the subject line of the email, and write your BetOnline account number and the ticket number of the bet in the content. 
Thus, thanks to this software, you can both make more accurate live bets and get cash back for your losses. Do not hesitate to try it right now. BetOnline will continue to organize various promotions so that you do not lose no matter what happens in sports betting.
👍Click here to visit Betonline!
BetOnline Live Betting $25 Free Play Rules
$25 free play has a six-time wagering requirement.

Within 2 days of sending the email, $25 will be credited to your free play account.

BetOnline's other terms and conditions apply.