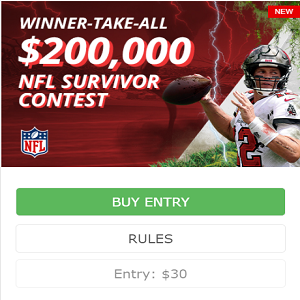 The 2021 NFL Regular Season will be 18 weeks of great excitement. The competition organized by BetOnline will also run for these 18 weeks, and the winners will receive prizes of up to $200,000. Registration opened on 16 July and will continue until 13 September. If you also want to predict the first week of the NFL Regular Season, you must register for the competition no later than September 11. 🏉
You can participate in the competition up to 25 times. While the first entry ticket is $30, 2-5 entries are $20, 6-10 entries are $15, and 11-25 entries are $10. Each week of the NFL Regular Season for the duration of the competition, you select a team to win the game directly. If your chosen team wins, you can choose a team that will win again the following week. 
However, if your chosen team draws or loses, your participation will be disqualified. The contest will end when there is only one competitor left, or when the 18th week ends, together with the contestants eliminated in this way. If there is more than one contestant who is still not eliminated after the last week's matches are over, the $200,000 prize will be split equally between them. 🏈
👍Click here to visit Betonline!
BetOnline NFL Survivor Contest Rules
The won prize will be added to your BetOnline balance within 2 days after it is won.

BetOnline's other terms and conditions also apply.