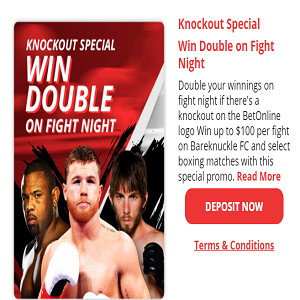 BetOnline loves fight nights like all boxing lovers. That's why they always sponsor the Bareknuckle Fighting Championship and the biggest boxing matches. Not only do they sponsor, they also offer the best promotions to their users. With this promotion, you can earn up to $100 per fight at Bareknuckle FC. 🥊
If you see the BetOnline logo on the ring mat on the night of the fight, you can double your winnings for every fight in the event. If the boxing fight ends in a knockout in the ring with the BetOnline logo and the body of the knocked-out boxer touches the BetOnline logo, your winnings will be doubled up to $100 per fight. If you bet at least $5 on a boxer and he wins the match by knockout, your winnings will be doubled. Bets must be placed before the match and the props will not apply. 🪐
👍Click here to visit Betonline!
BetOnline Knockout Special Win Double on Fight Night Rules
Double wins will be credited to your account as a "sports free bet" within 3 days.

The boxer's body or clothing must touch the BetOnline logo.

The maximum double win per fight is $100.

The minimum bet amount is $5.

BetOnline's other terms and conditions apply.