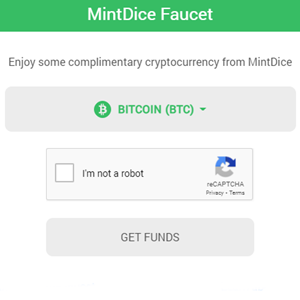 MintDice has one of the highest paying free Bitcoin faucets in the Bitcoin casino gambling world today. This is a free cryptocurrency rewards system that gives you real cryptocurrency as a reward for filling out a captcha.
Bitcoin dice site Mintdice has activated free faucet. You can earn free Bitcoin thanks to this offer. Unlike other websites, if you earn or win enough money on MintDice from the faucet, you are welcome to cash out your faucet money from MintDice, no questions asked! You do not need make a deposit if you don't want to.
You can also obtain play money, also known as Federal Reserve Dollars (FRD) through the faucet, and just play the games with no real money on the line for a stress free gaming experience.
👍Click here to visit Mintdice!
Mintdice Free Faucet Info
Only one account per player can take part in the Free Faucet.
The Faucet is not available for VPN, Proxy server, browser's incognito mode or any other kind of anonymous users.
The bonus is only available when you have a zero balance on all coins.