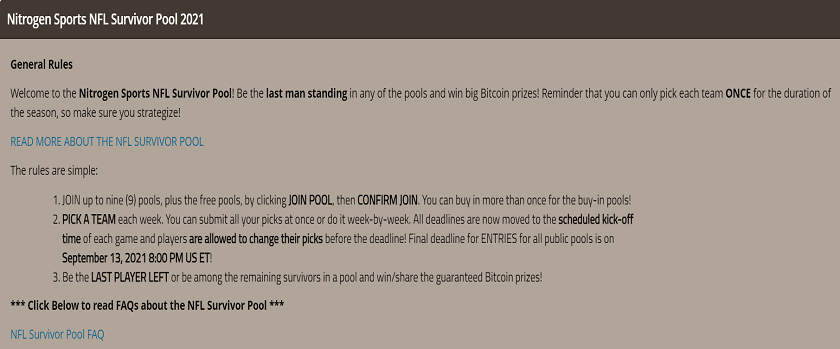 Nitrogen Sports is holding a Survivor contest for NFL fans and will hand out huge Bitcoin prizes to the winners. With hundreds of thousands of fans returning to the stadiums, the 2021 NFL season will be even more challenging than other seasons. Similar to Nitrogen Sports' competitions in previous years, Nitro NFL Survivor Pools cater to all registered users. There are multiple pools with various prizes for winners and participants.  🏈
The competition will run for 18 weeks. Participants must choose one team to win each week. If the selected team wins that week's match, the participant also gets a chance to survive until the next week. However, the team selected that week cannot be selected again in the following weeks. That's why NFL Survivor Pool is a much more strategic game compared to other bets. 🏉 Get ready to strategize and research in-depth!
👍Click here to visit Nitrogensports!
Nitrogen Sports NFL Survivor Pool Promo Prize Pool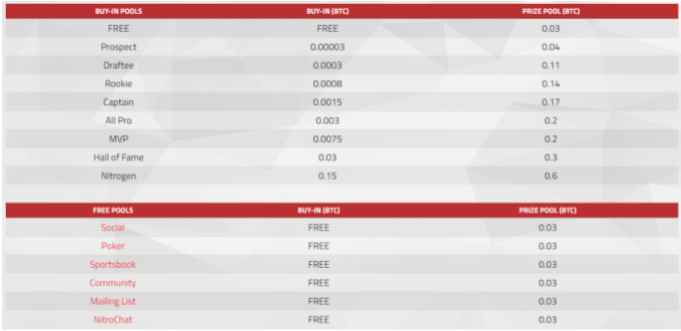 Nitrogen Sports NFL Survivor Pool Rules
The 2021 Nitrogen Sports NFL Survivor Pools will be open for participation from August 3, 2021, to September 13, 2021.

There are 9 public pools with different participation requirements.

Multiple entries are allowed in all pools except Free Survivor Pool.

Other terms and conditions of Nitrogen Sports also apply.