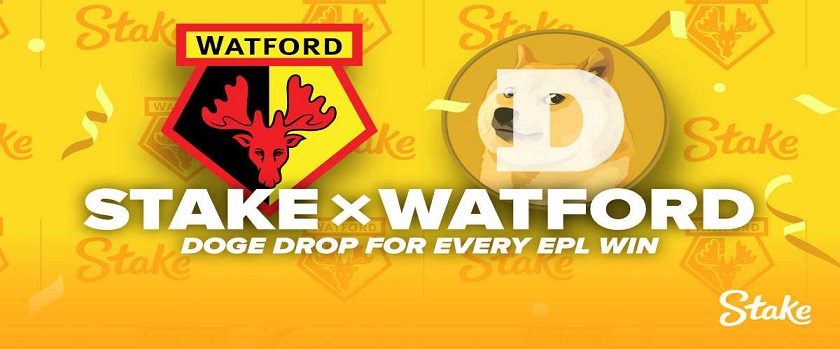 Watford's 21/22 season jersey chest sponsor is Stake.com! Watford, which is in 17th place in the Premier League, managed to score 5 goals against Everton and 4 goals against Manchester United this season, despite bad scores in their last games. 
The stake is also celebrating its partnership with Watford with a promotion that will delight all users. After every game Watford wins in the Premier League, Stake will distribute large amounts of Dogecoins to its users. Watford is a well-established English football club that stands out with its players such as Ismaila Sarr, Imran Louza, Ozan Tufan, and Moussa Sissoko. This award will crown the sponsorship of Stake and Watford. 🐝  ⚽
The campaign will run until the Premier League end date, May 15, 2022. This promotion will cover all matches Watford will play in the Premier League. Dogecoin is currently trading at $0.18. Stake's partnerships are not limited to Watford. 
Stake, the verified operator of the Crypto Gambling Foundation, is also the official betting partner of the UFC. Keep following our website to learn about other sponsorship-related promotions. Other terms and conditions of Stake also apply to all promotions. 🤑