Pros
Free Faucet
Jackpot Prize
Bitcoin Lightning
Provably Fair Game
👌 BitKong is a Bitcoin Casino site offering a single Provably Fair casino game. The site belongs to the same Bitcoin gambling sites network with Luckydice and Simpledice. Here they offer a brand new game called BitKong. Here is Bitpunter's take on BitKong Review.
Is BitKong a Reliable Bitcoin Casino Site?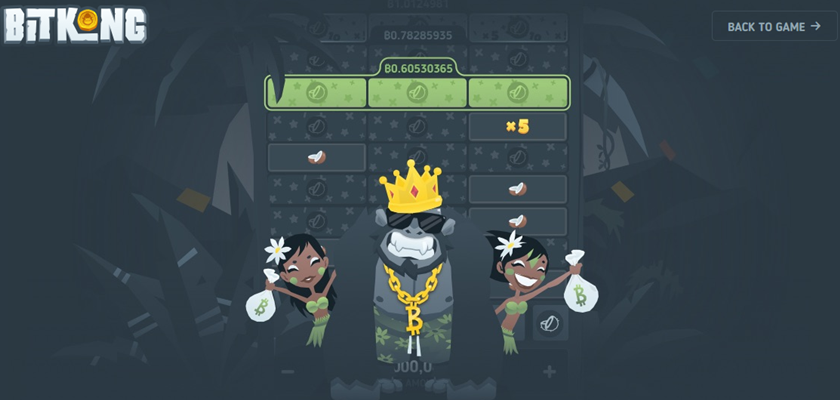 🦍 BitKong is a brand new Bitcoin Casino site which is offering a single Provably Fair casino game called the same name. They belong to the same Bitcoin gambling sites network with Luckydice and Simpledice which are very respectable Bitcoin Dice sites. The game's Provably Fair attributes are verified by a third party called The Crypto Gambling Foundation. They work with many respectable Bitcoin Casino sites like Stake.com and Primedice and verify their games as well. This indicates that their flagship game is safe and secure. Here is what you can find at their About page:
About BitKong
BitKong is bored, but he LOVES ❤️to gamble. By using an elaborate system of coconuts, ropes, and pulleys, he has created a provably fair game that will strain your nerves with a chance at striking it rich as bananas. And relax, the random results of the game are generated using the solid, provably fair system! Play our brand name game, get rich and tell girls you are an early adopter. They'll be impressed. Or lose everything and struggle to explain it to your wife. Preferably something in the middle.
👍Click here to open your account!
Is BitKong Licensed?
✔ No, they are not licensed. Usually crypto casino sites get a Curacao license but they did not bother as they offer only 1 game and it is Provably Fair. A Provably Fair game means that all the outcomes you get at the casino game are totally random and this can be verified with an independent tool. Thus, they do not need to get a license in order to convince the punters about their reliability.
BitKong Games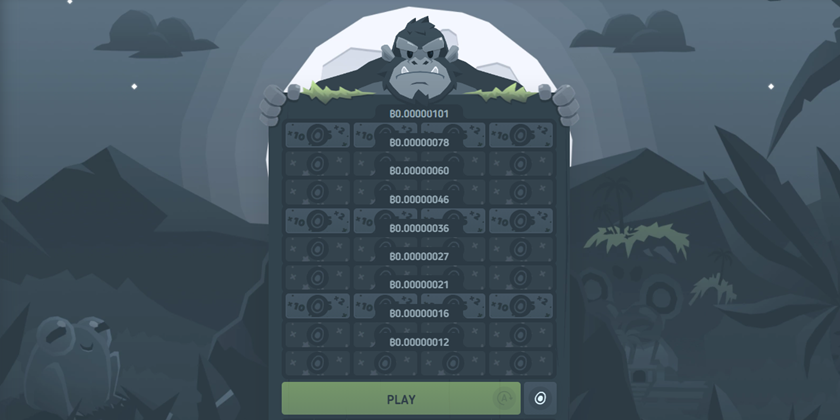 🦍 BitKong's main game is called Tower. It is very easy and fun to play. First you have to choose the difficulty level of the game. This will determine the number of winning and losing cells. Than you have to set you bet amount right under the Play button. Click the Play button to start the game and get this game into business. Pick whichever cell you think is hiding the goods. If you win, pick another cell in the next row. Whenever you feel you had enough adventure, take your winnings by clicking the Take button and Run! If you find 'Poop' under a cell that means that you lost that bet.
💩 They have also launched 3 more games by June 2020. They are Dice, Keno and Poops. You probably know Dice and Keno too well as they are widely available. Poops is just another version of the popular Mines game where a mine is replaced by a poop.
BitKong Bonus Offers

💖 BitKong offers all kind of bonuses that can be offered by a single Provably Fair casino site. They do have Cashback offers up to 0.3% to their King players. They have a great Jackpot prizes up to 2 BTC. The Jackpot is given in Stars but can be converted into BTC. They have daily, weekly and monthly tournaments and leaderboards where you can track your activity against others. They also offer Free Faucet every 10 minutes. They have all kind of bonuses to keep the fun going!..
Jackpot
Daily Tournaments
Cashback
Level Up
Magic Chest
Free Faucet
👍Click here to open your account!
Can I register anonymously to BitKong?
🧛‍♀️ Sure, you can register anonymously. Having a crypto casino account is all about anonymity and anyone can register as long as they are over 18. At their registration page they only require you to enter your email address and that's it. You even do not need a password. They send a code to your email every time you try to login and it works like a one time password. So just make sure that you register with a true email address and you do not need to give any personal information after that for the rest of your life.
You can also sign up with your Apple, Google and Facebook accounts but we do not recommend you to take those options if you want to stay anonymous.
BitKong Deposit and Withdrawal Options

💰 BitKong is a Bitcoin first Dice site with 2 different types of Bitcoin payments. They have the classic Bitcoin which may have more transaction cost and duration. They also offer Bitcoin Lightning which is faster and costs lower. They also accept 5 major altcoins.
Bitcoin
Bitcoin Lightning
Ethereum
Litecoin
Dogecoin
Ripple
Dash