Pros
Provably Fair Games
Uncheatable Casino Foundation
Licensed in Curacao
Weekly Tournaments
Cons
Only in English
Game Load Times
License Expiry Date
👌 Rocket.run is a Provably Fair casino site with in-house casino games and games from Uncheatable Casino Foundation. This crypto casino site only offers Provably Fair games at their website. Here is Bitpunter's take on Rocket.run casino.
Is Rocket.run a Reliable Bitcoin Casino?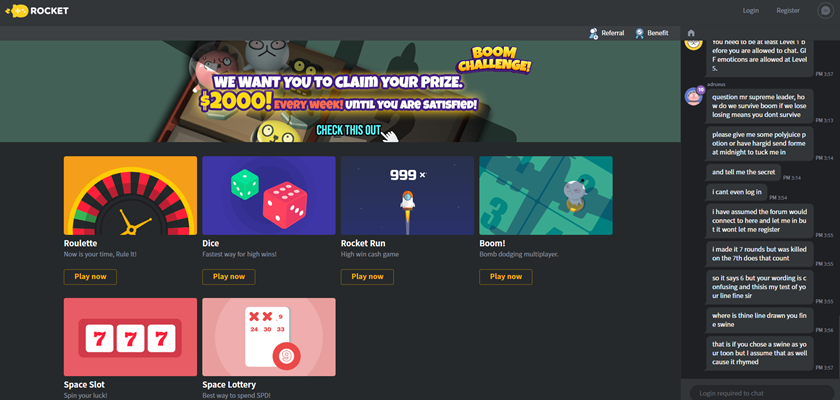 🚀 Rocket.run offers 6 in-house built casino games. Their name comes from the popular Provably Fair casino games Rocket or you may know it as Crash, Aviator or Limbo as well. Their version is called Rocket Run. All have the same logic with a rocket or a similar vehicle rockets and you have to try to get the highest multiplier before it crashes. It is a fun game and it is becoming more popular than the Bitcoin Dice game. That's why the brand Rocket.run uses rocket at their name. As they offer Provably Fair games only, they seem quite reliable.
🏅 Their Provably Fair casino games are certified by iTech Labs and Crypto Gambling Foundation. Some of their games are offered by Uncheatable Casino Foundation which itself in a mission to offer Fair games only. The Uncheatbale Casino Foundation is an organization that researches and realizes a fair platform that guarantees player security by using the Provably Fair concept and prevents manipulation by the suppliers.
About Rocket.run
Rocket is a gaming platform for people who are looking for unique and fun Provably Fair games. With the mission to provide the ultimate playground for cryptocurrency HODLers, Rocket is strongly user-oriented with a low house edge, delicately and casually designed UI, lucid withdrawal principles and proactive support.
👍Click here to open your account!
Is Rocket.run Licensed?
✔ Yes, they are licensed. They are one of the few crypto casinos who has bothered to go get a gaming license in Curacao and do things within a legal setup. Their license is registered in Curacao under the company name Alford N.V. Company address is Alford N.V., Abraham de Veerstraat 9 –  P.O. Box 3421, Curacao. Please do check the Gaming Curacao link at their footer manu as their license might be expired and waiting to be renewed. You can ask about their license at the community chat page as well.
Provably Fair Casino Games at Rocket.run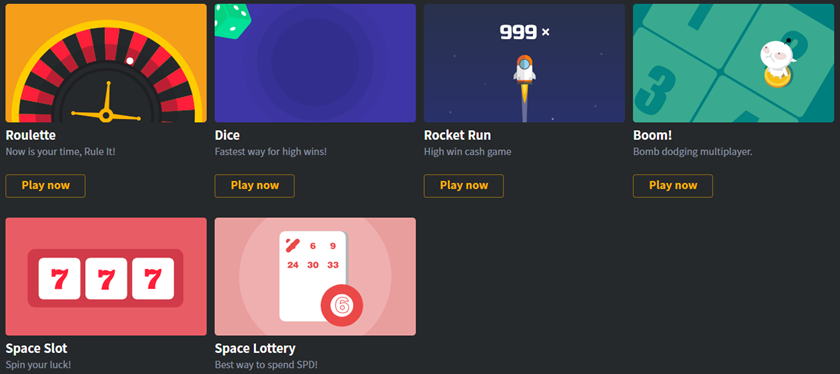 👨‍⚖️ Rocket.run offers 6 in-house built Provably Fair casino games. The most important Provably Fair casino games is Rocket Run of course which gives the website its name. They also offer the popular Bitcoin Dice and 4 other games. Through UC Casino Games they offer 3 more Provably Fair games of Baccarat.
Rocket Run
Dice
Roulette
Boom!
Space Slot
Space Lottery
Baccarat
Speed Baccarat
Dragon Tiger
👍Click here to open your account!
Rocket.run Bonus Offers

💖 Rocket.run does not have traditional bonus offers but they have a fun tournament every week. They give away $2.000 Prize every week. They choose the game themselves but it can be either Boom or Rocket Run. All players who meet this event's requirements will get a share in the prize pool of $2000. You can participate multiple times in winning records, and the more players get involved, the higher the prize pool will be. The minimum guaranteed prize pool is $2.000. The minimum bet requirement to join the competition is 0.000001 BTC. All Players who reached Rocket level 20 or above will get double the amount of prize.
👍Click here to open your account!
Can I register anonymously to Rocket.run?
🧛‍♀️ Of course you can! You can register to this crypto casino site in complete anonymity without giving away any of your personal information other than your email address. If you are concerned about the security of your email address, you can always register a new one for free and use it at this site. After entering your email address and chosen password, your account will be created. Than you have to verify your email through a code. At your Profile page, you will only see an avatar which is more likely to be a cute dog and that's it. No name, surname, address or phone number given and you can enjoy the anonymous world of crypto gambling.
Rocket.run Deposit and Withdrawal Options

💰 Yoru Rocket.run account comes with 300 Space Dollars which is their crypto money which lets you to try their games without making any crypto deposits. At the deposit page you will find Bitcoin with 6 other major altcoins. You can use any of them in order to deposit, withdraw or play the casino games.
Bitcoin
Ethereum
Litecoin
Dash
Stellar
Ripple
Zcash