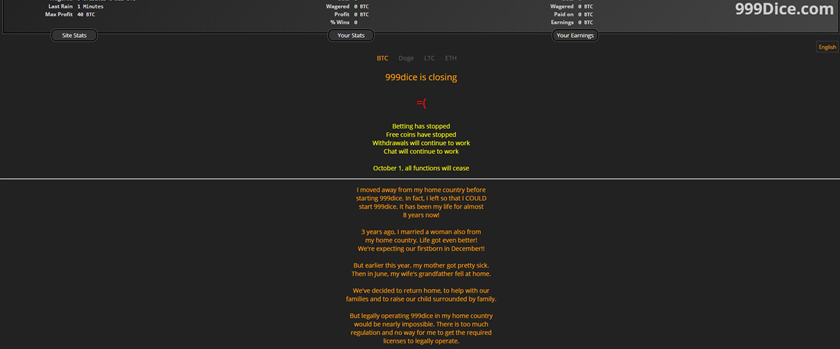 Well known Bitcoin Dice site 999dice is shutting its operations at the 1st of October 2021. As they state on their website Betting and Free coins have already stopped. Withdrawals and Chat will continue to work until the 1st of October. The owner of 999dice has left a very warm goodbye message to the players:
I moved away from my home country before starting 999dice. In fact, I left so that I COULD start 999dice. It has been my life for almost 8 years now! 3 years ago, I married a woman also from my home country. Life got even better! We're expecting our firstborn in December!! But earlier this year, my mother got pretty sick. Then in June, my wife's grandfather fell at home. We've decided to return home, to help with our families and to raise our child surrounded by family. But legally operating 999dice in my home country would be nearly impossible. There is too much regulation and no way for me to get the required licenses to legally operate. And so, we must part ways. Thank you. Thank you to the chat moderators, who have literally built and maintained the community here. Who have spent countless hours every day helping people and working to keep people safe, and feeling welcomed. Who have made 999dice their home. And who have given unfaltering loyalty over the years. Thank you to the bot makers, exploring new ways to have fun, not to mention creating entire economies within 999dice. Thank you to the man who took a chance and believed in me (and wrote most of the code for 999dice for me). Thank you to the referral army, for spreading the word and bringing new friends. Even thank you to the beggars, the thieves, the spammers and scammers. At least you made things interesting. And thank you to all the players. I sincerely hope you all had some good times and enjoyed your time here. Thank you, everyone. Thank you.
We wish the owner a very good life and all the best with the baby. If you are looking for a new Bitcoin Dice site please feel free to go through our Provably Fair Dice Sites and Dice Game pages.