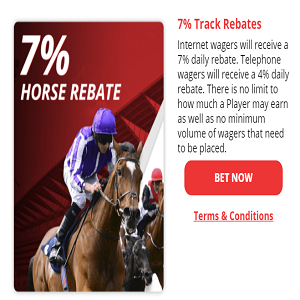 BetOnline continues to offer cashback opportunities to users who bet on horse races on racebook. They help you minimize your losses even if your bet does not win. 
BetOnline, which offers thousands of bets in dozens of categories from sports betting to horse racing, from e-sports to casino, from live roulette to poker, gives horse racing bettors a 7% rebate on racebook. 🐴
If your bet is $2.20 or more; If they are not in the D & E categories, are not matchup bets, are not fixed odds bets, and are not propositional bets, you can get a 7% rebate per day. You can get 4% rebate if you play the bet from the phone, not the internet. Both online and phone bets at NYRA circuits get 4% off. 
By choosing BetOnline for Racebook horse racing bets, you can continue to earn various cashback and rebate promotions. 🏇 🎠 You can earn cashback in almost every category, especially in the first bets you make after you become a member. You will forget what it means to lose.
👍Click here to visit Betonline!
BetOnline 7% Track Rebates Promo Rules
There is no minimum stake or maximum win limit.

All bets on races at NYRA circuits get 4% off.

BetOnline's other terms and conditions apply.