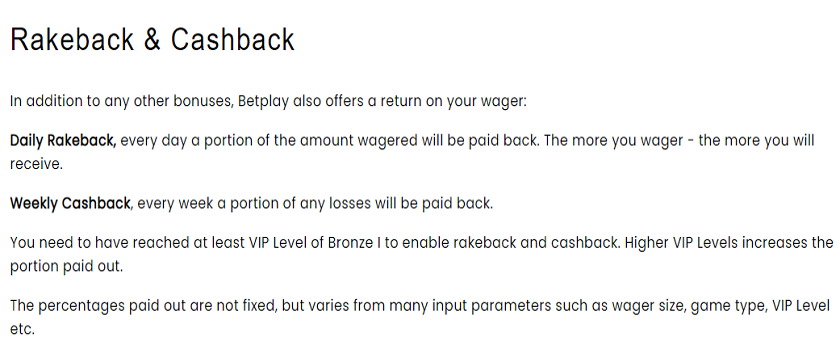 The famous casino site Betplay does everything in its power to ensure that the balance of bettors is not reset even if they lose. They set a VIP level based on how often users bet and the amount they place bets. They offer daily rakeback and weekly cashback, with percentages increasing as you level up. 🎃
In the Daily Rakeback, a portion of the amount wagered each day is refunded. Rakeback is a refund of part of the minimum commission Betplay takes from you during casino games. The more you bet, the more cashback you get, no matter whether you win or lose.
In the Weekly Cashback, a portion of the loss from betting games is refunded every week. Although cashback is only a partial refund of your losses, the payback percentage is much higher than Rakeback. By taking advantage of the Rakeback and Cashback opportunity, you can continue to earn balance even if you lose in casino games. 👐
👍Click here to visit Betplay.io!
Betplay Rakeback & Cashback Promotion Rules
Must be at least VIP Bronze I level to activate Rakeback and Cashback.

Payback percentages are variable.

The higher the level, the higher the refund percentages.

Betplay other terms and conditions apply.