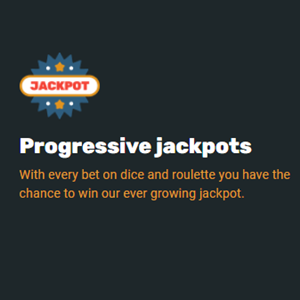 Popular crypto gaming site Crypto.Games adds new excitement to your games with a Progressive Jackpot. With every bet on their in-house built Dice and Roulette games, you will have a chance to win the ever growing jackpot.
When you navigate to the Crypto.Games's Dice and Roulette games you can see a Jackpots tab on the right side of the game. When you click, you can see the current jackpot amount and the latest contributions to the Jackpot pool.
The Jackpot balance is a whopping 3.69756329 BTC as we submit this information. Please do check the latest amount by simply visiting Crypto.Games and navigating your way into the Dice and Roulette games.
👍Click here to visit Crypto.Games!
Crypto.Games Progressive Jackpot Info
Only available at Dice and Roulette
To win the Jackpot, you must have a winning bet.
1 valid entry per household.