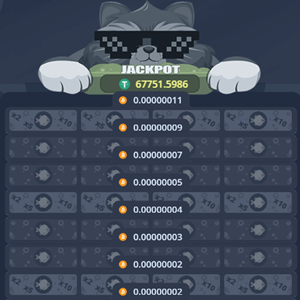 Luckfish.io has 18 in-house builet Provably Fair casino games but only Bitcat game gives away a special Jackpot prize. You can participate in the Jackpot by getting a ticket and get your chance to win the Jackpot for the currently over 67.700 USDT.
A progressive Jackpot is a Jackpot which increases each time the game is played but the Jackpot is not won. When the progressive Jackpot is won, the Jackpot for the next play is reset to the base value 10.000 USDT, and resumes increasing under the same rule.
You can win the Jackpot prize with your bets in Bitcoin, Fish Coin, Dogecoin, Litecoin and Ethereum.
👍Click here to visit Luckyfish!
Luckyfish.io Jackpot Rules
The percentage of the Jackpot is calculated by the formula: bet_amount / coefficient
To win the Jackpot your jackpot ticket must be 777777.
Every bet generates one jackpot ticket
Once hit the winning number , the bonus will be sent automatically after current round end.