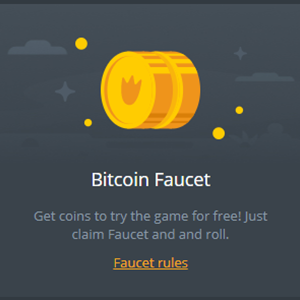 Duckdice has Bitcoin faucet who means to claim free cryptocurrency. To claim free cryptocurrency from Faucet you need to enter Faucet Mode. Modes switcher can be found in the top left corner of the game field. You just have to click it and get your Free Faucet.
In order to withdraw money from Duckdice's Faucet, first you need to win equal to or higher than the minimum cashout amount. When winnings are sufficient they can be cashed out to the Main Mode balance.
This transaction is called Cashout and can be done by clicking the same name button on top of the game field. Than you can enjoy your Free Bitcoin Faucet.
👍Click here to visit Duckdice!
What is the Duckdice's Bitcoin Faucet Amount?
The Faucet amount depends on your level:
Level 0 – per 30 days – 0.00000027 BTC.
Level 1 – per 35 days – 0.0000009 BTC.
Level 2 – per 40 days – 0.00000181 BTC.
Level 3 – per 45 days – 0.00000363 BTC.
Level 4 – per 50 days – 0.00000544 BTC.
Level 5 – per 55 days – 0.00000635 BTC.