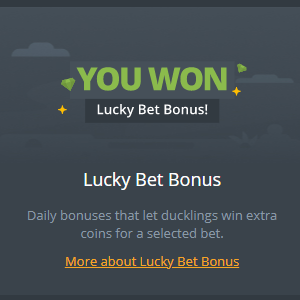 Dice site Duckdice's Lucky Bet Bonus is periodically held to let the players earn some extra coins from betting. The winners are chosen according to the bet numbers which are displayed above the game field.
Bitcoin dice site Duckdice has designed a special lucky bet bonus. When Lucky Bet bonus starts you receive a notification with the following specifications: bonus type, prize fund and minimum bet amount. There are two types of Lucky Bet bonuses:
One Winner – when the only player with the right bet number and bet amount receives the bonus.
Split – when all players with bet numbers close to winning number and bet amount receive the bonus.
👍Click here to visit Duckdice!
How to Take Part in Duckdice's Lucky Bet Bonus?
Place a bet amount equal or higher than was specified in start notification.
You get a bonus if your bet number is equal to the randomly selected number.
You don't get a bonus if your bet number is equal to the set number but bet amount is less than the required.