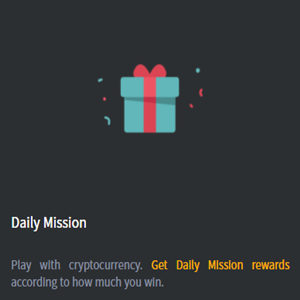 Bitcoin dice site Rocket.run has launched daily mission rewards. To get rewards, you have to complete the missions. The missions are called Daily Missions and very easy to complete.
You can either have to verify your email or complete a reCaptcha in order to get a Daily Reward from Rocket.run and you can play their games for free with the reward bonuses.
Dice and casino site Rocket.run gives away many award on daily mission campaign. Play with cryptocurrency. Get Daily Mission rewards according to how much you win. To participate daily mission, you can check campaign page.
👍Click here to visit Rocket.run!
Rocket.run Daily Mission Info
Only one account per player can take part in the daily mission campaign.
The daily mission campaign is not available for VPN, Proxy server, browser's incognito mode or any other kind of anonymous users.