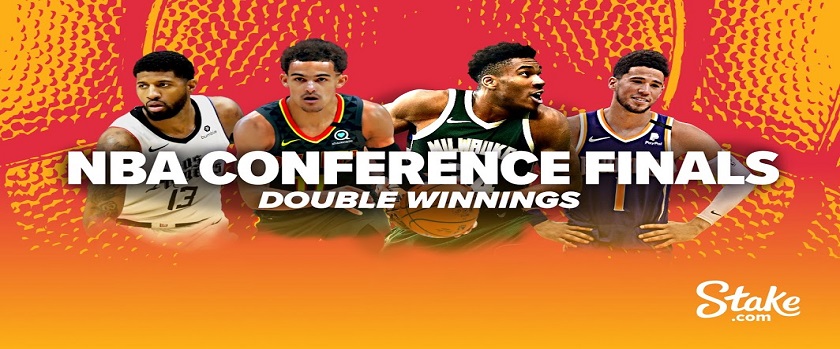 Stake.com is offering Double Winnings promotion at the NBA Conference Finals! In addition to 14+ popular promotions, one star player from each team will be selected for individual bets. Double wins will be awarded if the selected bets win. Individual bets will feature names such as Giannis Antetokounmpo, Trae Young, Kawhi Leonard, and Devin Booker. 🏀
Double Winnings conditions and betting selections will be updated for each match as NBA Conference Finals games continue. In the Eastern Conference, the Milwaukee Bucks – the Atlanta Hawks face-off, while in the Western Conference Phoenix Suns – Los Angeles Clippers. The series in the east continues 1-1. Phoenix Suns lead 3-1 in the western series. ⛹️
Stake.com's picks for Atlanta Hawks vs Milwaukee Bucks game 3:
Trae Young 9+ Assists + Hawks Win

Jrue Holiday 9+ Assists + Bucks Win
Stake.com NBA Conference Finals Double Winnings Rules
Player bets will be updated for each game in the NBA Conference Finals.

Bets must be made before the match.

Minimum stake: $5

Maximum Double Winnings: $100

Winnings will be credited to the account balance within 48 hours.

Stake.com other terms and conditions apply.