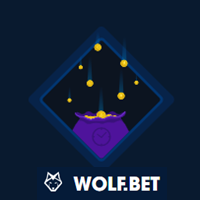 Wolf.bet gives away free crypto money every 20 minutes at their community chat! Just stay online and get you fair share of free crypto money.
Bitcoin, Ethereum, Doge, Litecoin, Tron, Ripple, Bitcoin Cash, you name it, every 20 minutes the last users on Wolf.bet's community chat will get a prize from the rain paid in one of these currencies.
All you have to do is stay online, awake, sober and alert at Wolf.bet's chatroom. It will rain every 20 minutes and the rain will come with free crypto money including Bitcoin!
👍Click here to visit Wolf.bet!
Wolf.bet Promotions and Bonuses List
VIP Rakeback Program
VIP Wheel
Wolf Race
Telegram Contest
Bitcointalk Lucky Number
Chat Games
Rain Every 20 Minutes
7-Day Streak Rewards