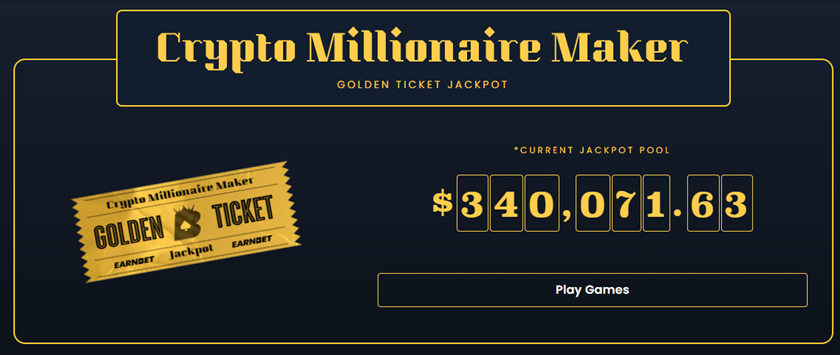 EarnBet aims to make you a crypto millionaire by giving you the Golden Ticket Jackpot. The current jackpot amount is more than $340.000. It would not make you a millionaire straigh away if you do not already have $660.000 in the bank but still it is a too good kind of a prize to ignore.
In order to participate in the Jackpot you have to bet over 2.5e-7 BTC on any of EarnBet's games. Than you have to click the gold "Jackpot" box. 0.000025 BTC will be taken from your account in order to enter the jackpot. This is in addition to your normal game wager.
If you are lucky enough to spin a 7,777,777 you will receive the only "Golden Ticket" token. This token can be exchanged for the total jackpot amount.
EarnBet Jackpot Steps
Bet over 2.5e-7 BTC
Click the gold "Jackpot" box
Give away 0.000025 BTC to the Jackpot pool
Spin a 7,777,777
Get the "Golden Ticket" token and win!