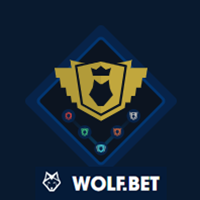 Wolf.bet gives away a special 15% Rakeback to VIP customers. You have to wager over $10.000 in order to become a VIP and make use of the increased Cashback offer.
Wolf.bet has the ladder system for users and when you wager $10.000 you become 'Alpha'. The Alpha users get an increased rate of 15% for the Cashback offers.
The VIP users is called the PACK as in Wolfs. Rakeback is accumulated each time you place a bet. Only users who have deposited funds can join the PACK.
👍Click here to visit Wolf.bet!
Wolf.bet Promotions and Bonuses List
VIP Rakeback Program
VIP Wheel
Wolf Race
Telegram Contest
Bitcointalk Lucky Number
Chat Games
Rain Every 20 Minutes
7-Day Streak Rewards